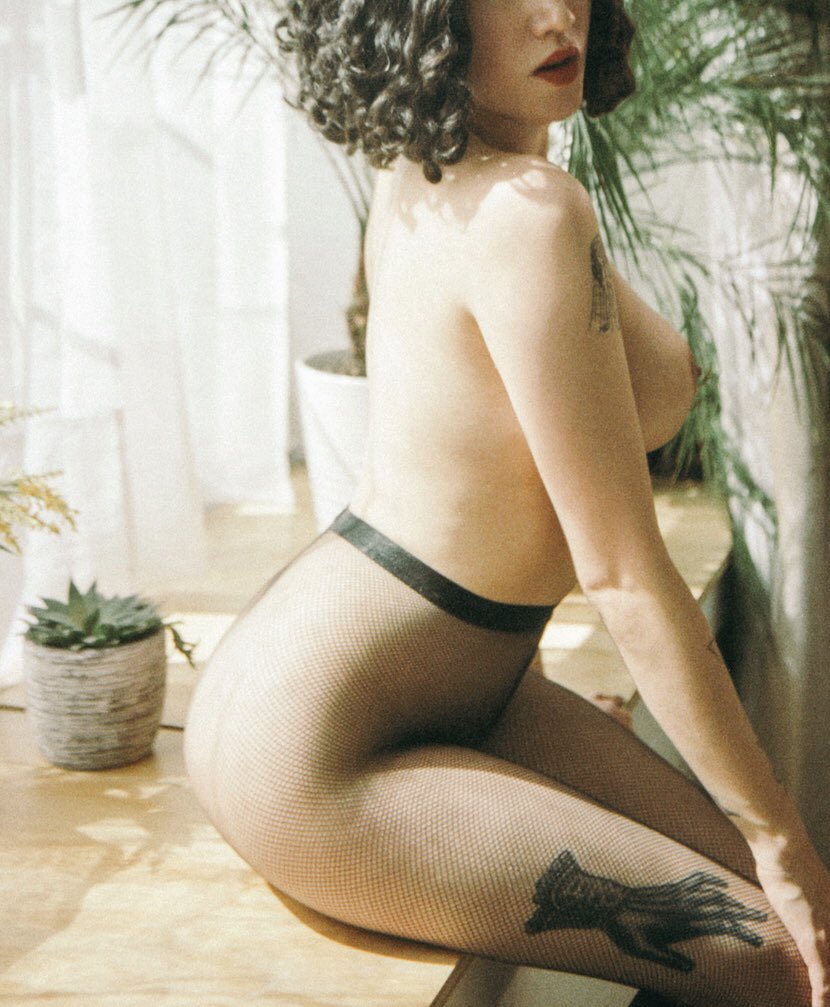 | AGE Late 20s |
| HEIGHT 5'4" |
| FIGURE Slender & Busty |
| MEASUREMENTS 38"/27"/36" |
| WEIGHT 120lbs |
| HAIR Voluminous Brown Curls |
| EYES Brown |
| TATTOOS Several |
| PIERCINGS Ears |
| EDUCATION East Coast Private |
An unmistakable vamp. First you'll notice my legendary head of curls. Under my mane you will find sweet, mischievous brown eyes, full pouty lips, and a wicked grin. A beauty mark on my left cheek accents my deceivingly innocent face. My body is slender and busty with delectable curves. I'll arrive dressed in simple black yet underneath you'll discover extravagant lingerie and intricate tattoos. Fine leather on my heels, a manicure like sharpened claws, a giggle that will make you melt. I'm inventive and dominant, a rare beauty to cherish like a gem. Bewitching and bold, you'll find me irreplaceable.
My wink is a dare,
a challenge.
I invite you in with refreshing authenticity and my magnetic disposition draws you close. With a provocative vibrancy, I approach our time together as a collaboration...how creative can we be? Let's craft an unrivaled experience. What makes me purr? Opulent surroundings, silky stockings, the smell of rope and leather. My waist cinched tightly into a corset. Sipping bourbon in a bubbly clawfoot tub. Dreamy perversion and creative roleplay. Opera-length gloves and a game of chess. Kink and laughter. Indulgence, calculation, and adventure. Would you like to admire my dazzling collection of leather toys, delicate lingerie, and slick latex? Let's play dress up. Let's play rough, let's play pretend. My movements are feline, languid but purposeful. My wink is a dare, a challenge. My passion is fetish with finesse.
I'm insatiably curious, dedicated, and playful in all areas of my life. A study in contrasts, I'm equally as passionate about opera as I am the origin of punk rock, a collector of both vintage jewelry and kitschy erotica. I travel frequently, pursue ongoing creative projects, volunteer often, and balance my companionship with a separate career in the art world, so I reserve my time for select gentlemen who share my interests. It's been a journey carving out a lifestyle that is conducive to exploration, productivity, perversion, and hedonism. Do you find my curiosity contagious? Perfect.